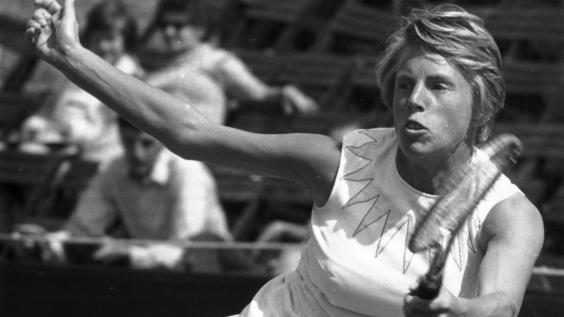 Ann Jones
British Tennis Player – also known as Ann Haydon-Jones or Ann Haydon
Ann Jones was a leading international tennis player during an era dominated by non-other-than Billie-Jean King. From 1957 to 1970 she was ranked in the World Top Ten and from 1967 to 1969 was ranked No. 2 in the World.  During her career she won two French Championship singles titles (1961 &1966) while loosing in a further three French finals. She lost two USA Finals (1961 & 1967); and she lost to Billie-Jean King in the Wimbledon final in 1967 but got her revenge over Billie-Jean in 1969 to take the title which led to her being voted BBC Sports Personality of the Year. In addition she reached a further six Wimbledon semi-finals. With the arrival of the open era in tennis in 1968, Ann Jones joined Billie-Jean King and others in organising the first professional female tour. Winning a further 5 Grand Slam championships during her career, three in women's doubles, and two in mixed doubles she is rated as probably Britain's greatest post-war woman tennis player.

Question: Besides being a leading tennis player of her time, Ann Jones (aka Ann Haydon) was a British Champion and international player in what other sport?

Answer: Table Tennis Her father was also a British Table Tennis Champion

Question: Who did Ann Jones defeat in the 1969 Wimbledon Final to become Wimbledon Champion?

Question: Who was the first female left-handed player to have won a Wimbledon Singles Final?